Awarded "Best All-Star Campaign 2015" by the NBA
1.5+ million votes for Stephen Curry, highest votegetter in NBA
The Bay Area is home to the most technology savvy population in the NBA–and arguably the world. With the NBA embracing the power of social media for All-Star voting, we leveraged this fact to help push the Warriors and their marquee players to become the frontrunners of the All-Star ballot, ultimately pushing Stephen Curry to become the most popular player in the NBA's All-Star voting.
Inspired by the phrase, "Vote Early. Vote Often," we combined old-school americana and propaganda to create a unique look and feel that was easily sharable and memorable. Vintage for the digital age. Without any of that hipster BS.
To kick off this "old-meets-new" campaign, we took three generations of Warriors and threw them together. Warriors Legends (Nate Thurmond, Jim Barnet, Alvin Attles, and Jerry West) get schooled on how to vote by future Warriors (Kid Steph and Kid Klay) after actual Warriors Steph Curry and Klay Thompson stop by.
With so many ways to vote (Twitter, Facebook, Instagram, text, NBA.com, NBA Gametime app, and Weibo) our first job was to inform our audience on the new rules of voting for the All-Stars.
While the tagline worked as a gentle reminder to vote every day, it's secondary purpose was to intrigue people to find out all the different ways they could vote.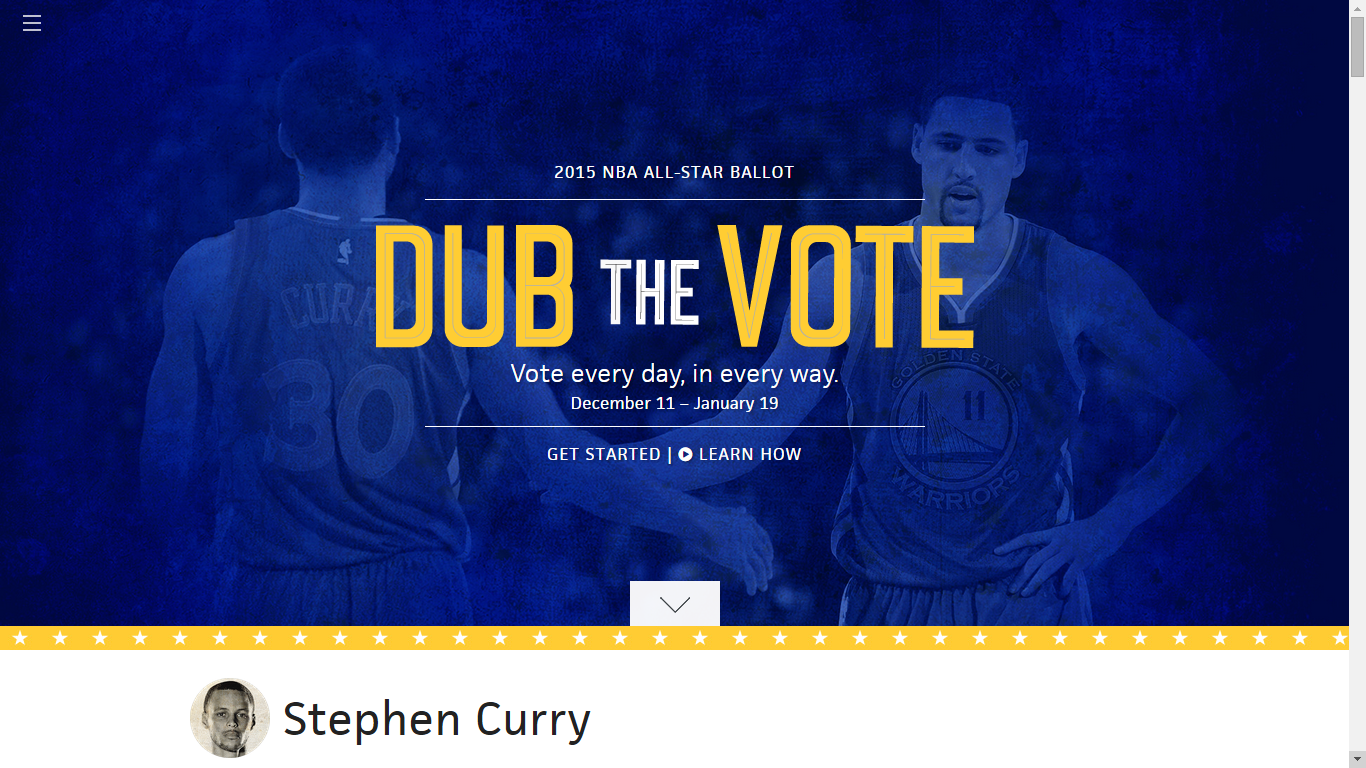 Dedicated Warriors fans could leverage as many as six votes per day. While that particular ask was much too large for casual fans, Warriors fans (aka #DubNation) are the best fans in the NBA and highly loyal and dedicated.
Other NBA teams have complained that #DubNation is too tech savvy (and too loud). I argue that the Warriors just have extreme effective advertising. And amazing fans.
An homage to advertising legend Hal Riney's "Morning in America" television spot for Ronald Reagan's reelection campaign, we used radio to continue the "old-meets-new" feel of the campaign. 
The best time to strike is when the iron is hot. In this instance, the "iron" is acutally players and the "striking" is voting.
THE RESULTS
Not only was Stephen Curry the most popular player, but his Splash Brother, Klay Thompson, joined him and the entire coaching staff at the 2015 All-Star game.
Leveraging Stephen Curry's popularity, we immediately sold out his All-Star jersey. At the time, his jersey rose to the second most popular, just behind LeBron James'. His jersey is currently the #1 most popular jersey in the world.
After Klay Thompson's All-Star selection, his jersey promptly sold out as well.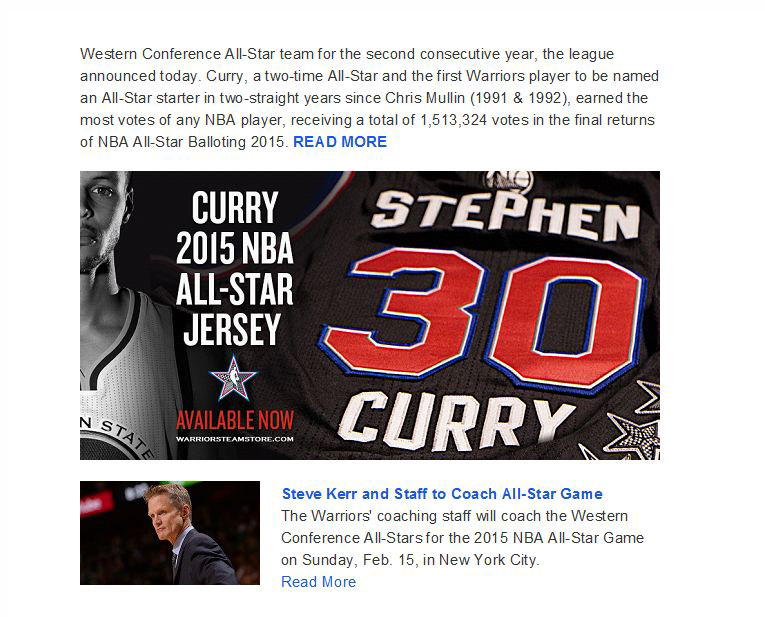 In the end, the NBA named the Warriors "Digital Innovators" for what I like to call, "An All-Star, All-Star Campaign."